Staff
Robin Tyndall, Director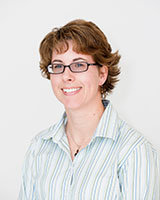 Robin Tyndall graduated from UNC-Chapel Hill with a degree in English. She worked for IBM and later Lenovo Group, as an operations manager and global program manager for ISO certification of multiple sites and business functions. Her last position was Global Director for Lean Six Sigma deployment. Robin joined Appalachian in 2009, and lives in Vilas with her husband and two children. She is pursuing her MS in Bioethics.
Responsibilities:
IRB Administrator
IACUC Administrator
IBC Administrator
Radiation Safety Program support
Intellectual Property Council support
Export controls compliance
Workshops, Class visits and training on IRB process and Research Ethics
Conflict of Interest (COI) Administrator


Monica M. Molina, Assistant Director
Monica is the Assistant Director of Research Protections. She graduated from New York Law School in 2001. Since graduation she has been employed in the legal, education, and research fields. She worked as a researcher at the University of Miami, Miller School of Medicine's Department of Pediatrics and in Social and Scientific Systems. During her tenure there she was involved in multiple behavioral studies and clinical trials. Additionally, she collaborated on scholarly publications with an emphasis on post traumatic stress disorder and cognitive deficits resulting from immuniological diseases.

Responsibilities:
IRB Administration
Exempt research
Responsible Conduct of Research Administration
Contact for IRB process and Research Ethics
Conflict of Interest (COI) Administration


Shante' C. Mathes, Assistant Director
Shante' Mathes is the Assistant Director of IACUC & IBC programs. She graduated from North Carolina A&T State University with a B.S. in Animal Science and from Tuskegee University with a M.S. in Veterinary Sciences. During her time at N.C. A&T, she participated as a summer research scholar at Iowa State University. While at Iowa State, she worked on various research projects dealing with obesity studies, the distribution of compounds in the meat of beef cattle, and glutathioine status in feedlot cattle. Since graduation, she has been employed with USDA Veterinary Services as an Animal Health Technician/Inspector. She was responsible for enforcing import/export compliance of animals, assisting with Avian Influenza outbreaks, community outreach, and monthly facility inspections.
Responsibilities:
IACUC Administration
Post Approval Monitoring for IACUC
IBC Administration
Good Laboratory Practices (GLP)
Dennis Gabriels, Compliance Coordinator
Dennis Gabriels graduated from XIOS Hogeschool Limburg with a B.A. in accounting. Since moving to the US from Belgium 10 years ago, Dennis has been employed in the housing industry. His last position was as a Training and Compliance Manager with CRM Rental Management, where he managed training and compliance for several federally assisted housing programs. Dennis joined Appalachian State in 2017, and lives in Boone with his wife.
Responsbilities:
IRB & CITI Coordinator
Conflict of Interest (COI) Assistance
Export Controls Administration