About the IRB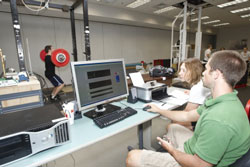 The IRB is registered with the Office for Human Research Protection with the Federal-wide Assurance #FWA00001076 which provides assurance that the University will comply with applicable federal laws and regulations related to research with human participants. Before participants are recruited or data is collected about human participants, the IRB must review and approve all research, regardless of funding, conducted by Appalachian State University faculty, staff or students.
Regulatory Information
Appalachian FWA number: FWA00001076
Expires: November 8, 2022
Appalachian HHS IRB Registration number: IRB00001458
IRB Contact Information
Institutional Official: Dr. Ece Karatan
IRB Chairperson: Dr. Andrew Shanely, shanelyra@appstate.edu
IRB Coordinator: Morgan Coyle, coylemt@appstate.edu
Director of Research Protections: Deb Paxton; (828)262-2692; paxtonda@appstate.edu
Address: IRB, Research Protections, ASU Box 32174, Boone, NC 28608
IRB Forms
Access Human Ethics (IRB) to complete an online application. Other forms, such as exemption and consent forms, can be downloaded from the IRB Forms page.
IRB Meetings & Membership
View meeting dates and deadlines for sending your study.