Human Subjects: Institutional Review Board (IRB)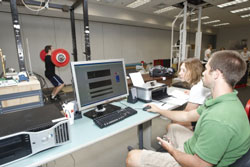 The IRB is registered with the Office for Human Research Protection with the Federal-wide Assurance #FWA00001076 which provides assurance that the University will comply with applicable federal laws and regulations related to research with human participants. Before participants are recruited or data is collected about human participants, the IRB must review and approve all research, regardless of funding, conducted by Appalachian State University faculty, staff or students.
Regulatory Information
Appalachian FWA number: FWA00001076
Expires: November 8, 2022
Appalachian HHS IRB Registration number: IRB00001458
IRB Contact Information
Institutional Official: Dr. Jeff Ramsdell
IRB Chairperson: Dr. Andrew Shanely
IRB Administrator: Ms. Robin Tyndall, (828) 262-2692, tyndallrs@appstate.edu, 376 JET
IRB Office: Ms. Monica Molina, (828) 262-4060, molinamm@appstate.edu, 374 JET
IRB Compliance Coordinator: Dennis Gabriels, (828)-262-2721 gabrielsdl@appstate.edu
Address: IRB, Office of Research Protections, ASU Box 32174, Boone, NC 28608
Welcome to the IRB Information System, or IRBIS!
We are very excited to provide a tool that keeps all study documentation together, enabling you to see and manage all of your IRBs from one dashboard.

The link to IRBIS is here: https://appstate.myresearchonline.org/irb/index.cfm You will need to use your Appalachian login credentials to access the tool.

Once in, you will see all IRBs that you are affiliated with from 2009. You cannot edit any study where no online application is affiliated. However, you can see the status of each study, and you will be able to see the attached documents from the last review. All studies beginning with a 16-xxxx will be entered in the system as online applications.
Once you enter a study using the e-form, you will be able to manage the IRB from that point on.

Some items to keep in mind:
* Once you complete the questions in the General Information section, IRBIS will assign a study number for you. You can leave the application as a draft at this point, and it will appear in your "drafts" folder each time you log in, until you certify and submit the study for review.
* If you have a co-I or Faculty Adviser listed in your personnel, they will be prompted to certify your submitted study in the system. The study will appear in your "Being Routed" file until this step is complete.
*Please note that the IRB Office does not receive requests for review until ALL required parties have certified the study. When the IRB Office accepts the study for review, it will be listed in your "Submitted to the IRB" file.
If you have any issues or questions, please let us know at irb@appstate.edu. We would appreciate any feedback you have!

IRB Administration